---
About your guide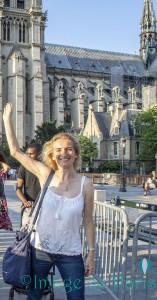 My name is Viera Ďurčaťová and I am coming from Záhorie, Slovak region famous for its typical dialect, local specialties and especially the peculiar humor with which the "Záhoraci" take their lives with ease and events as they come. And so I took it this way when my husband got a job offer outside of our beautiful Slovakia. Our life began a few years ago in a city over the Seine - Paris.
"Since I was a child, I have longed to be a castle warden, to have a large bunch of mysterious door keys... For more than 15 years, I have been guarding clients' money at the bank. Now as local guide, I prefer to accompany curious visitors to the treasures of nature and architecture in Paris and the various regions of France. My work is my passion. I love books and discovering the secrets of history. I am fascinated by mysteries and I like to look for curiosities. I am most pleased when people come home excited about my trips and talk about their experiences for a long time. It is my reward and impulse for further expeditions to create a desire in our clients to return again. I like to meet spontaneous and cheerful people who are not afraid to experiment."

I opened the imaginary door and since then I have opened it to others. Family, friends, acquaintances and now clients as a professional guide.
So welcome, please!

Local tourist guide for individuals, families and groups, Paris and the surrounding area, selected regions of France, mainly in Slovak and Czech. Your technical travel guide in Paris with English. Customized "tailor-made" tours for you. Thematic tours.
I am here for you, you won't get lost with me.